Punched Roller Shutters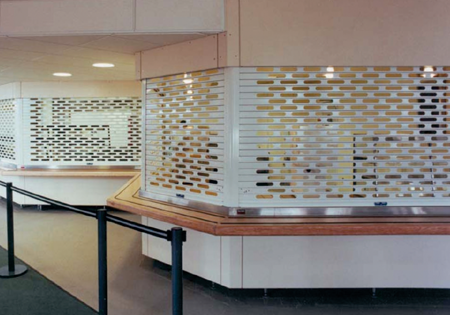 Nirmal Punched Roller Shutters are an ideal method of securing openings such as shop fronts, server counters, reception desks and bars whilst maintaining through vision for advertising purposes. An attractive close fitting flat lath curtain together with a neat and unobtrusive central motor drive system allow punched roller shutters to present an aesthetic and cost effective solution to securing various types of opening.
Nirmal punched Roller Shutters are custom made in our factories and are spray painting up by company's KEBS Quality System and have been supplied on many prestigious projects.
Standard Specification
Curtain
Shutter Curtains are constructed from 90 mm continuously interlocked steel laths, securely held in place by end locks.
Guides
Vertical Guides are formed from Rolled Steel Channel and are supplied with suitable angles for fixing to the structure.
Endplates
Prime painted mild steel of appropriate thickness relative to door size and supplied with angles for fixing to the structure.
Barrel
The barrel is constructed from steel pipe of adequate diameter to resist deflection and held in bearings or cups attached to the endplate.
Finish
Generally parts prime painted. Powder coating is available at extra cost.
Maximum Sizes
7 meter wide x 4 meters high.
Electric Operation
Electric operation is by means of a single phase CAB central motor. A safety brake is fitted to all shutters where personnel could pass underneath thus meeting all relevant Health and Safety Requirements. The client should provide a fused spur within 500mm of the motor position.
The standard Method of control is by means internal Wall mounted rocker switch. Other types of control Including key switches and remote controls are available at extra cost.
Weight
Dependent upon size and lath configuration but typically 20kgs per m2.
Options at extra cost:
• Key switches
• Radio Remote Control
• Photocells
• Timer closing
• Polyester powder coated finish
• Hoods
• Fascias