Rotary Drums (Single Cage Ams)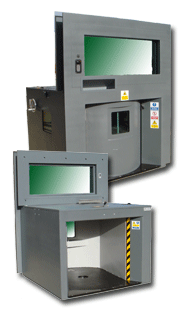 Rotary Drums (Single Cage Ams) type manual for the bulk transfer of bullion drums and valuables between non secure/secure zones.
Design Features
• Manual operation for easy transfer of bullion pallets etc.
• Security ensured by drum design providing overlap at all times.
• Vision panels in the drum allow the cargo to be inspected in the closed condition.
• Unit available right hand operation and left hand operation.
• Unit also available with 270 deg. Rotation at extra cost.
• Normally installed in one day by our trained service technicians.